Most of us have 3 vac lines going to a triple checkvalve which then goes to our brake booster. This can be replaced to a single vac line and a single checkvalve. The advantages are that you get to reduce the # of places that you might get a vac leak, and you end up with a $9 checkvalve instead of a $50 checkvalve.
Vac leaks are the enemy.
There's a number of different rubber intake boot designs for the E30 over the years. Some used an L shaped Idle Control Valve (ICV) and some use a T shaped. Most, but not all intake boots had a port to provide vac to the brake booster. Here's a pic of a common setup. Note the T shaped ICV.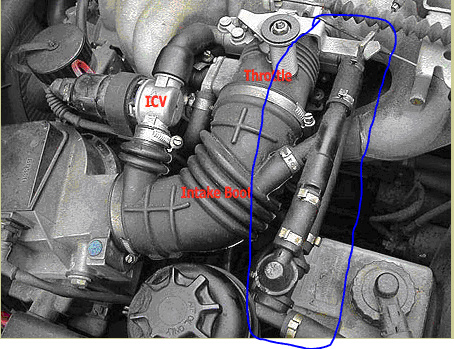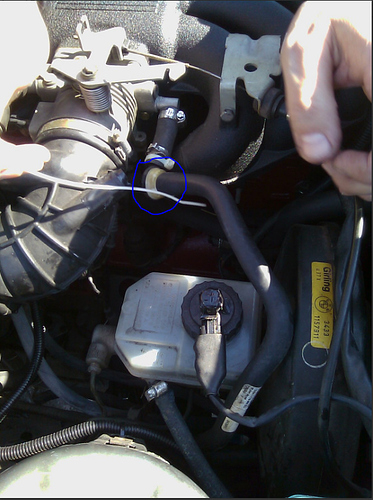 Here's a pic of where you're headed. Checkvalve is circled.
That's a 2010 pic from Warren Turnipseed's car. Note the single brake vac line and checkvalve. Unused ports in the intake boot and throttle body are plugged.
After I saw what Turnip's shop had done, and this was in 2010, I scoured RealOEM to figure out if there was a way we could call this great idea "legal". That's when I realized how many different intake boot designs we had. Shawn has ok'd this as a "update/backdate" clarification.
If you're highly motivated, you can find one of the E30 intake boots that have no vac port, and swap out your boot. But be careful that you don't end up with a boot that isn't compatible with your ICV. Remember that there's both L shaped and T shaped ICV's. Personally, I would just plug the vac port on your current intake boot and be done with it.
E30 checkvalve. Vaico - 34331156579 - Brake Booster Check Valve?
The hose is just generic vac line stuff. I don't remember the dia.