At Road Atl last month I finally resolved to get an enclosed trailer. I found a killer local deal on a year old 24' and with Rich Bratton's help I got the trailer. It needed some repairs and as luck would have it the trailer repair place was only a couple hundred meters away. I finally got the trailer back a couple days ago so this weekend was the first time I really "had" the trailer. The first project was to paint it.
Friday evening was spent cleaning and masking. Lots and lots of cleaning. After consulting with "The Home Depot Lady", I had a gallon of exterior latex for the walls, and a gallon of some acrylic for the floor. "Home Depot Lady" said that both would give me about twice the coverage I needed, but I figured that if I only bought a couple quarts I'd probably just run out and have to head back to Home Depot.
HD Lady also said that epoxy paint, my original plan for the floor, was a nogo because it wouldn't adhere to the wood. Her recommendation was an acrylic latex, because altho it might have trouble with hot tires and 2500lbs, in general terms the acrylic latex could be trusted to bond with wood pretty well.
A couple weeks ago I'd bought a paint sprayer off of CL for precisely this task. And once it quit working I borrowed the neighbors paint sprayer, sigh. The neighbor married to Glock chick (http://spece30.com/forum/16-general-discussion/42615-late-night-wrenching-pass-the-glock-pls). Who's already complaining about my trailer being parked in front of the house btw. It wasn't there for 18hrs before she started complaining. Sheeze.
To my surprise my gallon of exterior latex only seemed to get about half of the job done so I had to head back to HD for another gallon. It took the paint sprayer about 5min to burn thru that and then I was struck by just how much the walls really needed a 2nd coat. So I went back to HD for another 2gal of paint. I burned right thru that additional 2qts and didn't have a drop left. The next time HD lady says that a gallon will be plenty I'm going to buy one of those 5gal tubs.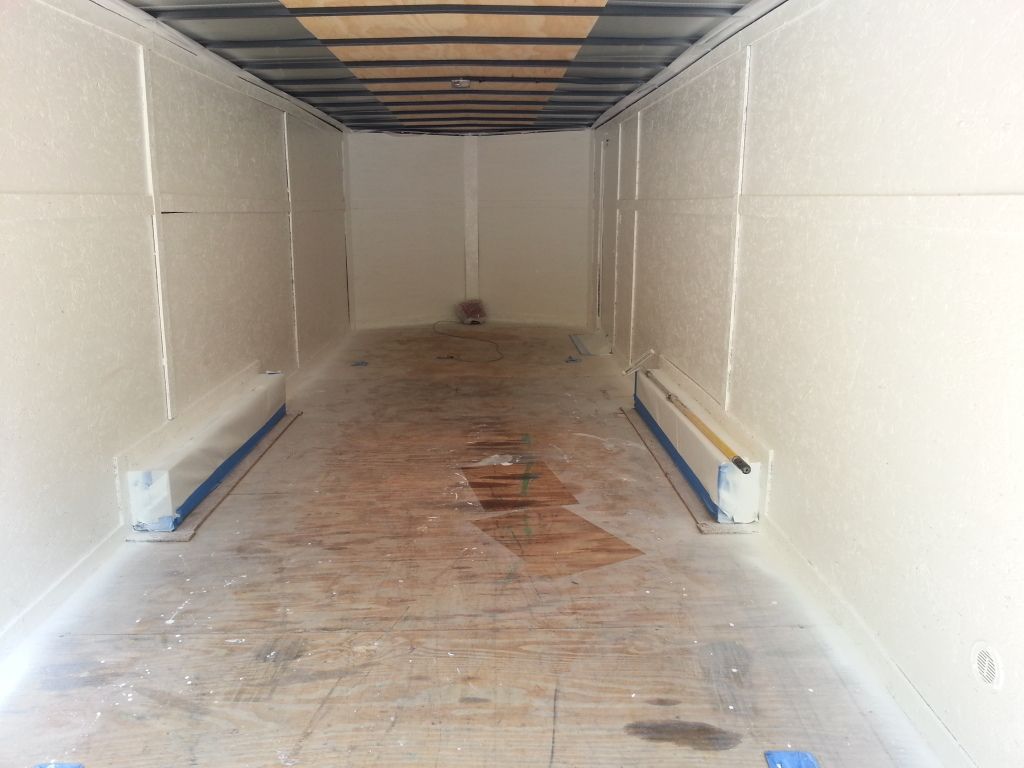 Saturday afternoon #1 son and I got down on our hands and knees and scrubbed the whole damned 24x8.5' floor. There were oil patches and dirt in the plywood that had to come out. It was a lot of work.
I started having second thoughts about the acrylic latex on the floor. I looked up some old threads a bf.c and resolved that "the Internet knew better" than HD Lady. So I bought some epoxy garage floor paint and some primer to help it stick to the wood. I also got some sand to add traction to the epoxy paint, and some colored speckles to make it all look pretty.
Early this morning I put a coat of primer on the trailer floor. The first coat of epoxy went on in the early afternoon and then I installed the HF weight dist hitch. That effort went unusually smoothly. I probably used up a month's worth of luck with the painless install of the hitch.
The 2nd coat of epoxy went on the trailer floor around dinner time. I was supposed to let it dry overnight but it seemed plenty dry so I drove on. Wife wants the trailer gone and I figured if I finish tonight I can get the trailer out of the neighborhood one day sooner.
I put some sand in the epoxy paint just prior to putting the 2nd coat on. It's some stuff that was next to the garage floor paint, I didn't just shake out the kid's beach toys. About each 25 sqft of progress I'd toss the colored speckles on to the floor because I'm such a class act.
Next trailer weekend I'll do something about a work table, wire in the winch, and put something on the floor for the car's wheels to rest on.