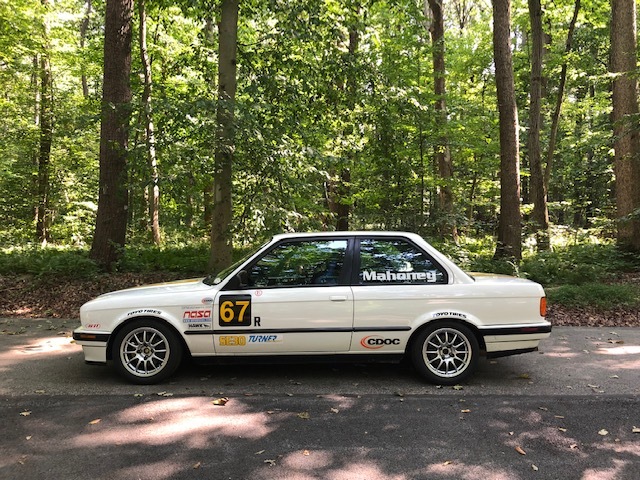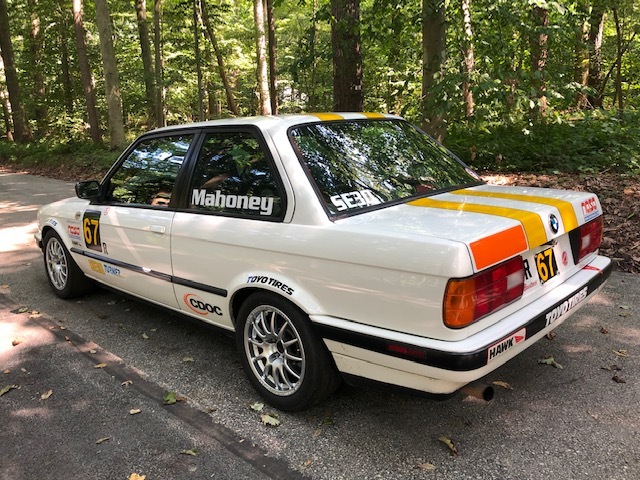 1989 325is SpecE30 Race Car
Price: $13,900 OBO
Pictures: Dropbox - SpecE30 - Simplify your life
Car located outside Philadelphia PA
Please contact mahoneyj at yahoo dot com if interested.
The time has finally come for me to sell my beloved race car. I am reluctant to sell as it will be one of the stories in a few years, "Boy I had the clearest most reliable SpecE30 race care ever and I will never have one that clean again . . ." I had an injury a few years ago and had to take a break from racing. That allowed me to get through track withdrawal after more than 20 plus years on the track. I have decided to not return for now so I no longer need my own race car and it needs a good home. Right now it just gets started and driven around to keep it in running order and exercised a bit. Not a proper life for a SpecE30.
If you read this far and like E30's but are not familiar with SpecE30, it's a fantastic race class with very completive and affordable (in racing context) racing. It always has large fields for lots of great racing. Well maintained car are incredibly reliable so you have more time to drink beer with your buds than fixing broken race cars.
This would also make a great leaner car as it's a forgiving platform and this car has two seats so you can have an instructor ride along to progress you in the sport. Heck, this car is even registered and has a plate on it. It would pass PA inspection if I reinstalled the horn and put tires with enough tread depth on them. Great way to make friends with neighbors and impress your kid's friends when picking them up at school.
The car:
Are there cheaper ones available for sale? Sure. Have they been built and maintained like this one. No. The car has been stored in a climate controlled garage for years so it's lived a good life when not battling for position. Most race cars are rode hard and put up wet. Not this car, it's been lovingly maintained by me over the years and my OCD tendencies. This car was built by DP Motorwerks in Virginia Beach and raced by the shop owner for a few years. Then he sold it to me in 2008. My goal was a 100% reliable and competitive car. The car was built well by a pro and then each winter I went over every system in the car upgrading and replacing all the big and small bits that could give you a DNF. I even did crazy stuff like replace any hardware with genuine BMW hardware when I was going over the car. It does not add a lot of cost and really puts a nice period on any work done to the car. Almost every fastener that was removed and replaced was torqued to the proper value and then paint marked. This makes it really easy to check the car at the end of the session to make sure noting is backing out and could DNF or even crash you out of a race. Little details like that are all over this car. Yes, I can be a bit neurotic.
The car finished every race or track session it entered. It truly is a great, reliable and comfortable car to race and even gotten me to the podium a few times with my less than Senna like skills. To my knowledge it has never been in a major wreck. Really!!! I know it's hard to believe. Car comes with a log book and is ready to race with some safety equipment updates that the future owner can do to their preference and taste. I even have the window sticker for the car. That's some random paperwork to survive with a race car.
Safety / Interior:
The cage meets all CCR mandates and has some nice extra bars around the seat shoulders and gussets at the intersection points. See pictures for more details.
Seats are Sparco Evo with expired FIA dates. I loved the seats so I put a massive custom made seat back brace so it still passes tech. The driver's seat is on sliders and can be adjusted and the seat back brace is adjustable too.
Belts are expired for racing but should be OK for most Drivers Ed events.
Cool shirt system installed. A must for summer races.
Helmut blower installed. It's not routed though the cool shirt system and I was planning on doing this at a later date. But I found that blowing ambient air did enough to evaporate the sweat off my head and kept me cool and comfortable. Evaporation is natures AC! Also keeps your glasses unfogged in any situation I came across.
Autometer gauges are installed for the important bits like Oil Pressure, Water Temp, & Oil Temp
All factory gauges work too. Heat and blower works for those damp fall event. You will be happy it works when you need it. Z3 short shift kit and new factory knob. The old ones break off mid race. Not fun and I know people that have had this happen. Fuel level works most of the time.
Car comes with some custom made ballast that can be easily swapped in if needed to make weight.
Body
This car was originally Bronzit and we all know that's a cursed color. Bronzit cars always seem to end their day in carnage for some reason. This car was repainted white like any proper racing German car and to fend off the Bronzit Armco Boogey Men. It's a race car quality paint job. Even nicer than most.
Body is very clean with a minimal dent in the passenger quarter behind the rear wheel. See pics.
Minor scuffing on the bumpers (it's spec racing after all).
Many Spec cars have been in multiple incidents through their life. Not this one. I have found my way to the podium a few times but am happy to give up a passing opportunity if it could end in carnage.
Rust! Ya, nothing major to report. It has some minor rust at the rear battery box area like all E30 do but it's minimal at best. It never got worse in the time I have owned it. Urban legend says this car was originally a RI car back when it was a yuppie cruiser and then made it's way to VA where it lived out its life and then became a race car.
Front windshield is fresh and has tear off to protect it. No more being blinded driving into the sun during early or late races!
Suspension / Drive Line:
Spec H&R Race Springs
Spec Bilstein Shocks
Spec Legal front and rear sway bars
Legal rear eccentric kit installed so you can actually adjust your rear alignment specs.
Front lollypops are drilled and tapped so they don't rotate and keep your alignment
All sub frame and sway bar reinforcements installed
All bushings are poly or delrin manufactured by AKG or Powerflex
Much of the suspension HW was replaced when refreshing the systems
New Lemforder tie rods less than 500 miles ago
New Lemforder control arms less than 500 miles ago
Steering rack rebuilt and power steering removed. Parts to reinstall come with car if that's your thing.
Guibo and center driveshaft support bushing replaced
Front and rear bearings / hubs replaced less than 500 miles ago
Front and rear rotors and pads have one weekend on them and are like new.
All soft brake liens have been replaced with Bimmerworld steel braided lines. Even the rear upper lines which are no fun to do.
Many hard lines were replaced so they are no longer old and rusty
Wheels are Team Dynamics and weigh in at the minimum weight allowed.
Tires are old and hard. You want fresh rubber.
Front stainless brake cooling ducts installed and routed it is front valance. You will never overheat these brakes.
Engine
Oil was changed after every two events. When I did the valve adjustment the top end was 100% spotless like new.
Engine was one though and a fresh head installed by DP Motorwerks when built. These engines are incredibly robust right from the factory and last forever with oil changes, valve adjustments and NOT over revving them. This thing starts immediately and runs perfectly every time you turn the key.
Custom PooreSports oversized baffled oil pan. Its holds 9 Qts and will guarantee no oil starvation in fast left handers cooking your rob bearings. Car also has a spec legal Factory 3 (remember them) skid plate in case you go agricultural to help prevent hurting that damn sweet oil pan.
There is a small oil leak from the oil cooler connection to the block. If it ever leaked a reasonable amount I would fix it but it never got there. It was easy to do a quick wipe off after a race weekend.
OE oil pump replaced when oil pan was done. Cheap insurance while you are in there.
Timing belt done less than 500 miles ago.
Valves adjusted less than 500 miles ago.
Water pump replace less than 500 miles ago.
Plugs, cap, rotor all done less than 500 miles ago.
Coil, fuel pressure regulator, idle control valve were all replaced with new.
All valve cover gaskets and cam plugs replaced when vale adjustment was done.
New Genuine BMW airflow meter or flapper box or whatever you want to call it. I think I got one of the last NEW genuine units in the country before they went NLA. First one lasted over 20 years and I am sure this one will too. Many people bitch the rebuilt units are not great but that's not an issue on this car.
All rubber hoses and fuel lines have been replaced.
All critical relays are new and spares available just in case. They are zip tied down too so they never work lose on track. It happens surprisingly often when not zip tied.
Injectors were rebuilt and flow tested to match.
ECU is the 173 Motronic M1.3 variant that you want.
Almost all OE parts came from BimmerParts.com and Chris always got the good stuff for me. I even made him insane with my hardware orders. They loved me for that.
Other parts from AKG, Bimmerworld and Turner.
Extras in the spares box:
Assorted relays and bits that can be used by your buddies as they sort their cars at the track since yours is already 100% sorted and trouble free.
Spare 173 ECU
Front rotors
Cap and rotor
Mahle air filters
Spares than can be negotiated into the deal if you want even more stuff:
Like new Team Dynamics wheels with old rubber.
Running low mileage ~80k engine out of an auto vert and associated wiring in case you want to build that killer "not cheater" motor and still race all season
Transmission
Front and rear plastic bumpers in decent shape. They are getting harder to find these days so you should have some spares in case that position became important enough to sacrifice a bumper.
Front passenger fender
Two front and two rear sub frames just in case you have an incident. One front is even reinforced and powder coated.
Factory oil pan
If you stuck around this long, thanks! You either have a lot of spare time or you want an E30 to race with the cool kids! If you have any questions not answered above, email is best, I am not 20 so use email, mahoneyj at yahoo dot com. I am happy for anyone interested to get a PPI done locally in the 19355 area if you wish. I hope my old reliable friend can become yours and provide many years of track enjoyment.