Thinking of selling the SE30. Act now before I change my mind about it, which has been known to happen.
1989 Spec E30 Sedan
Highlights
Only driven on weekends.
NASA Logbook - 2018 Annual Inspection
Three sets of Team Dynamics wheels. (Two with RRs, one with RA-1)
Spec stage 4 clutch (4-puck) - new 2018
Spec lightweight aluminum pressure plate - new 2018
Bimmerworld clutch stop - new 2018
IRP Shifter (awesome) - new 2018
Bilstein front shocks - new 2018
Ground Control coilover suspension - new 2018
Ground Control camber plates - new 2018
Lemforder control arms - new 2018
Outer tie rod ends - new 2018
Bimmerheads 885 head - new 2017
Afterburner Rain Light - new 2017
Cage by Chris Schimmel @ Competition Cages
Momo suede steering wheel with Snap-Lock quick release
VAC Seat floor mount adapters
Bimmerworld all-aluminum radiator
Heater core removed
Doors gutted
Ducted brakes
Electronic switches with individual circuit breakers.
Original Malt Liquor Tech window sticker
Heating element on oil pan - plug it in and keep it warm.
Spares
Complete 885 head - exhaust rockers new 2017
Several doors
Three ECUs
New front calipers
New rotors front and rear
New inner tie rods
1 set Hoosier SM7, unmounted, four heat cycles
Back window glass
Intake manifold
Trunk lid
AEM wideband sensor/gauge - not yet installed.
I'm keeping the seat (it's expired anyway) and the transponder. I'll include a Corbeau passenger seat with slider. It could use a new windshield. I'm including the gasket and lock strip, both of which are brand new.
Pictures
Here are a few, I'll get around to taking more in the coming days and will add them to this thread, but wanted to go ahead and post.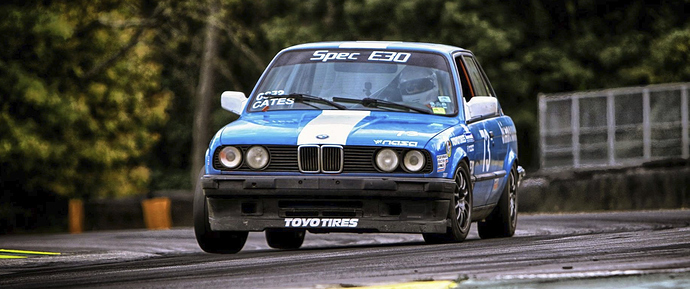 Most recent:
Videos
A couple of the latest races from this year:
Price
$10,500 - negotiable if you want fewer wheels/tires or spares.